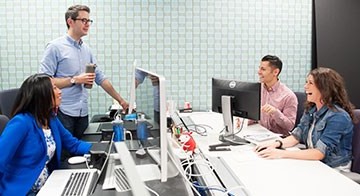 If you are interested to make career in Electronics & Telecommunication, Mechatronics, Instrumentation, Robotics etc.,  at any level in any specialization then VPL Infotech & Consultants is one of the best choices with you.
As it is true that every organization needs the right talent to achieve its business objectives. Similarly it is also true that people need the right environment to grow and achieve their career goals.
As soon as you become a part of VPL Group, you will be filled by feeling of being at the right place. Along with that, you will get boundless growth opportunities and exposure to cutting-edge technologies and learning possibilities. The work environment at VPL is built around the belief of growth beyond boundaries. Some of the critical elements that define our work culture are wide exposure, cross-domain experience, and work-life balance. If you have right talent then world is yours.
Current Openings ….
We have following opening at present:
Job Description:
Position                :               Trainee in field of Electronics
Job Location       :                Delhi
Qualification       :               Diploma/ITI/Certificate course in Electronics
Experience          :               Fresher or with some experience in electronics field
Salary                   :               As per qualifications and industry norms.
Only, candidates desirous to learn, upgrade their skills, hard working and keen to make their career in this industry need apply.
Interested candidates should forward their Resume to hr@vplinf.com
Company Profile:  Please visit   www.vplinf.com